Choose a Volkswagen Model:

Replacement Volkswagen Convertible Soft Tops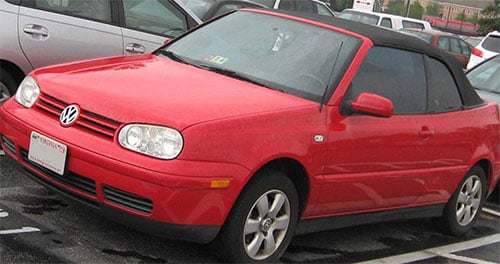 GAHH guarantees that the Volkswagen convertible soft tops have the highest quality material. They are made in the USA using OEM Haartz canvas materials and OEM colors that ensure you get the best look and feel of the original top.
OEM Original Materials
The Volkswagen convertible soft tops are available for the Beetle, Cabrio, Golf, and Rabbit. The 2001-2020 models include the tinted glass window, sewn-in plastic retainers, and OE type brackets. The 1980-2001 models reuse the existing glass window and stitch lines heat-sealed into the top. They have factory-style OEM materials and colors. GAHH's use of OEM materials and colors and a wide variety of aftermarket selections ensure you are getting the correct texture and weight.
Glass Windows
The convertible soft top for the Volkswagen 01-02 Cabrio/Golf IV and the 03-20 Beetle models include Infinity tinted defroster glass windows. The top is reinforced around the window and has electrical connectors that attach to your existing wiring harness. GAHH offers a limited lifetime warranty on the glass windows against leaks and separation.
Guarantee
The Volkswagen convertible soft tops are 100% guaranteed to fit right out of the box. If not, we will replace it or refund your purchase price. The glass window has a limited lifetime warranty against leaks and separation.