INFINITY™ integrated window system.
Not only is it equivalent to OEM tops cosmetically, but it is equivalent structurally as well.
---
Our Next Generation Window System
In 2008, GAHH introduced the revolutionary UltraMaxx™ system to install windows in convertible tops solving bond failure and eliminating stitching and piping that was common at the time.
In 2017, GAHH again led the industry with the introduction of the INFINITY™ WINDOW SYSTEM. The Infinity system incorporates an engineered support structure and direct to topping material glass bond resulting in aftermarket convertible tops that are equivalent to the OEM top both structurally and cosmetically.
INFINITY™ integrated window system
At the heart of the Infinity System is the Infinity Ring that is designed to support tops that open/close while the vehicle is in motion and that have a fast cycle time. These requirements led OEM engineers to create an integrated window structure requiring an extremely strong, precise ring.
Our Infinity Ring is the only aftermarket system that meets these requirements through injection molded rings using the same materials as the OEM. Anything else is only an imitation that will risk ring breakage and field failure. The system features direct bonding to material, no "rolled edge" on material, and the glass sits direct on the topping. Our proprietary engineered tooling and equipment provides superior finish bond strength.
OEM Equivalent for Newer Vehicles
Attachments are compatible with new convertible vehicle designs to make convertible top installation quicker. Lighter weight injection molded rings use the same materials as the OEM. Lighter weight injection molded rings use the same materials as the OEM.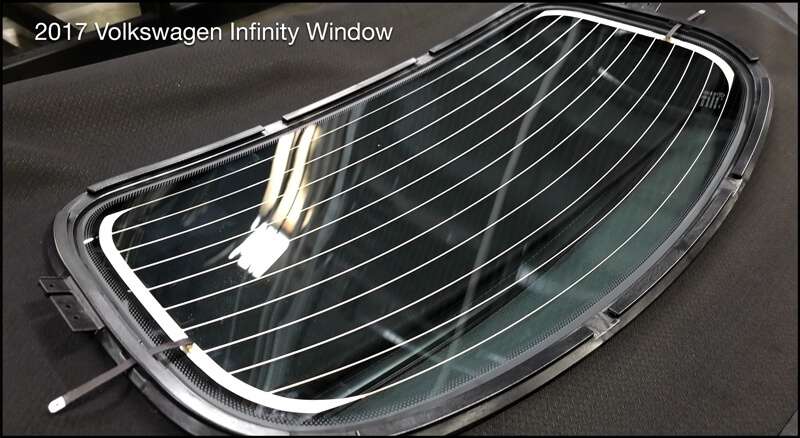 Lifetime Warranty
Infinity™ Tops are constructed using a patent pending bonding system engineered to last. By integrating the window structure fully into the frame we can confidently guarantee the window bond will not separate, delaminate, leak or fall out.